You can use the Export Course Content tool to capture an instance of your course that can be imported into a future course shell. We recommend that you export your course and download the export file on the last day of class. You can save the course export package on your computer or in your Office 365 OneDrive.
An Export is a IMSCC zipped file containing a snapshot of your course content, but does not contain student interactions or grades.
Note: Zipped Export files should only be opened through the import tool in Quercus. Unzipping and opening these files on your computer can compromise the course data and break your back-up. You can export student grades separately as a CSV file.
Create an export file:
1. Select Settings from your course menu;
2. Click on the Export Course Content link on the right side of the page;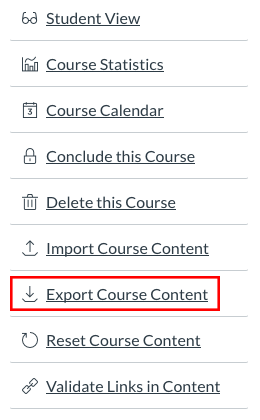 3. On the Content Exports page, the "Export Type" should be set to "Course";
4. Select the Create Export button.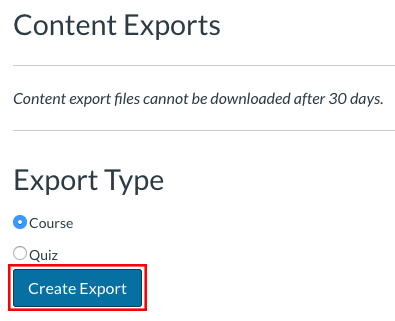 5. A link to your export file will appear on the next screen. You can click on the link to save the file to your computer.
 
See also: Importing a Quercus Course