You can create an Quercus export file that you can then import into another Quercus course.
Step-by-step Course Import Instructions
1. Select Settings from your course menu;
2. Click on the Import Course Content link on the right side of the page;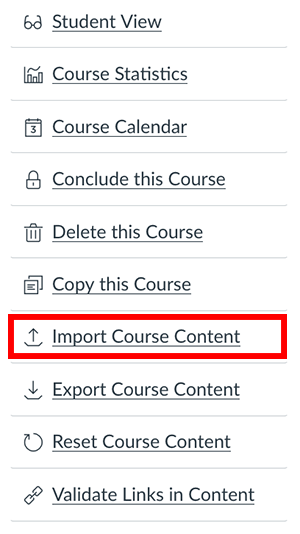 3. In Import Content, select Content Type and select Canvas Course Export Package file;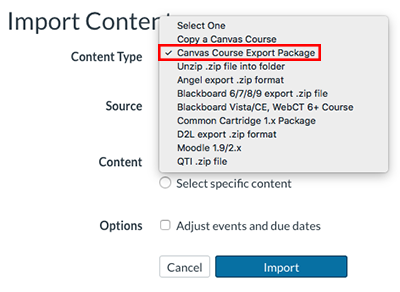 4. Click on the Choose File or Browse button, depending on your browser, to select the course imscc export file that you wish to import;
5. Select All content or Select specific content;
6. Select the Import button.
You will now see the import status under Current Jobs.
Note - if you specified Select specific content, you will now confirm which content is to be imported by clicking on Select Content.
Your files are now imported, and most of your course material can be found under Modules.
Note:
The Grade Posting Policy for the course and for individual assessments will be carried over when copying an entire course to a new Quercus course and the Grade Posting Policy for an individual assessment will be carried over when copying the selected assessment to a new Quercus course.
See also: Exporting a course