You can set up a Wiki assignment in your Quercus course using Pages.
Please note that the student Wiki pages will not automatically generate a grade column in the Gradebook. If you require a collaborative assessment option that can be linked to a grade column, you may want to consider using a graded discussion. More information on the Discussion tool in Quercus can be found here.
You can either have your students create their own "WIki" Pages or you can create the pages beforehand for the students to edit. Either way, Quercus will keep a history of the page revisions.
 
If you would like the students to be able to create Wiki Pages you will need to first go to Settings in the course menu, click on more options and specify "Teachers and Students" for the "can create, rename, and edit course pages by default" dropdown menu and click the "Update Course Details" button.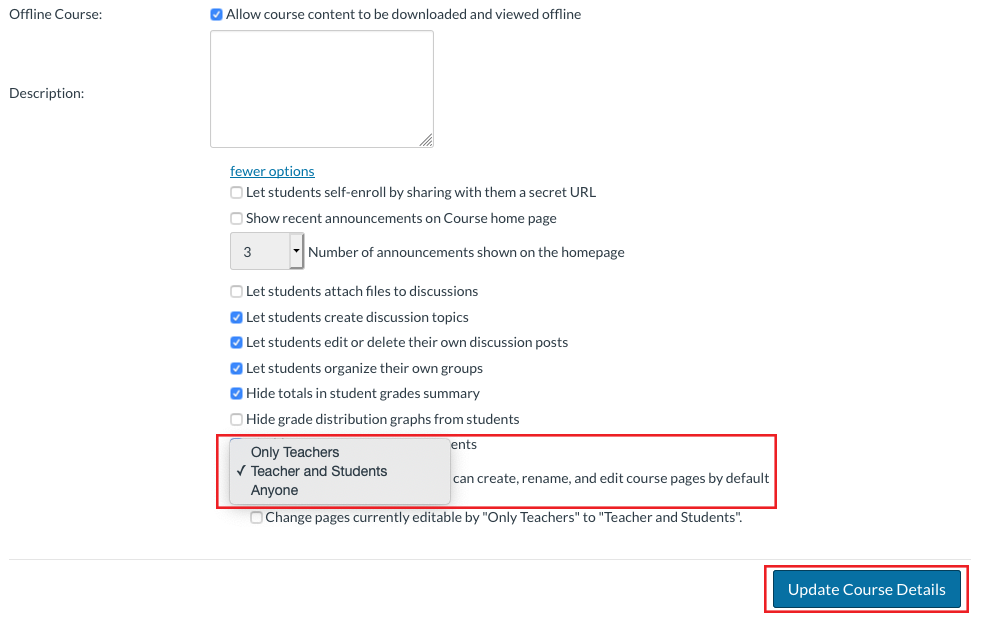 If you would like to create group Wiki pages, you will need to first create groups by following the instructions below:
1. Select People from the course menu.
2. Click the + Group Set button.
3. In the box that appears, specify the Group Set name, and next to Group Structure, select the "split students into [INSERT NUMBER OF STUDENTS] groups" option if you would like to create random groups. Note: Quercus will automatically create the individual groups within this group set.
4. Click the Save button.
You can access each Group Homepage by clicking on the 3 dots next to each group.
Students can access their groups by clicking on the Groups icon found in their global navigation menu (the blue one to the very left).
Below are the instructions with screen shots (also attached) for creating Wiki Pages.
1. Go to Pages in your course menu and select the + Page button (If your students are creating the Wiki pages, they will need to click on Groups in their most left, global navigation menu, then click on their group to access their Group Homepage and menu, that will include the Pages).
2. Next, Name the page and provide any instructions in the Rich Content Editor box. Beside the Options dropdown menu you will need to select that "Teachers and students" under the "Can edit this page role selection" section.
3. To view the revision history for the Wiki Pages, you will need to go back to the Pages list and click on the link for the WIki page you created. Next you will click on the 3 vertical dots and in the dropdown menu select "View Page History"
The Revision History for the Wiki will appear on the right-hand side of the page.