The Inbox is a messaging tool in Quercus that you can use to communicate with students in your course(s) You can communicate with an entire course, a section, a group of students or an individual student or course staff member.
The Inbox tool can be accessed from the Global Menu, as shown below.

Sending an Inbox message
You can send an Inbox message to an individual, section (including a cross-listed tutorial section), or group in your Quercus course by following the instructions below:
From the Inbox tool, select the Compose Message (pencil) icon and the message box will open.
Select your course from the Select Course dropdown menu.
In the To field, start typing the name of the student, section or group. Alternatively, click on the on the address book icon to the right and select the user group, section, or group you'd like to send your message to. To add additional groups, sections, or individual users, repeat this step.
To add an attachment to your message, click on the paper click icon. To attach another file, click on the paper clip icon again.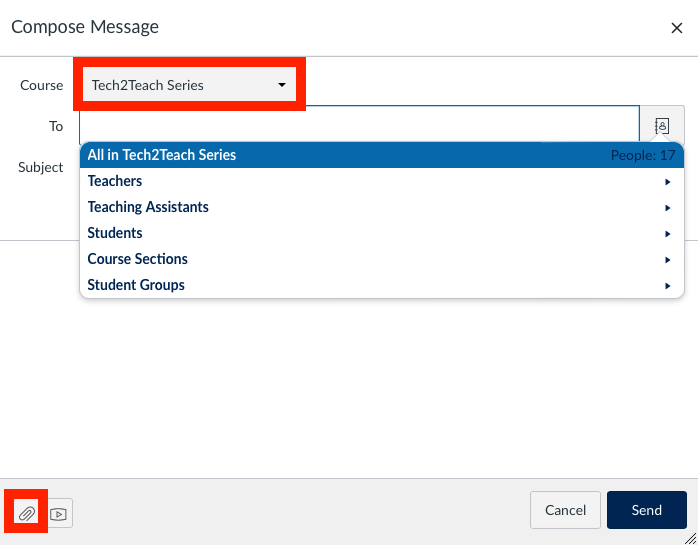 Notes:
When sending messages to more than 1 recipient, it is important to check the box next to Send individual messages so that your recipients will receive individual messages.
If a user has been added to a particular lecture section as a TA, they can only send a message to a tutorial section if that section has been cross listed with the lecture section.
The inbox should not be used to submit assignments, as issues with students adding attachments have been noted. To collect assignments in Quercus, use the Assignments Tool.
By default, students will receive a notification if they receive a Quercus Inbox message, and can respond using their email program. However:

Students have full control over their notifications and can turn them off
Students may not regularly check their UofT email

Because of this, it is advised to not use the Inbox Tool as a primary method of communication with your students. Within Quercus, we recommend using the Announcements tool.
The Inbox tool cannot be used for student to student notification.
Visit our page of email notifications for instructors for information on how to set your notification preferences. Notifications for inbox messages fall under the heading of Conversations on the notifications page.
Additional Resources
Canvas Instructor Guide - How do I use the Inbox as an Instructor
https://community.canvaslms.com/t5/Instructor-Guide/How-do-I-use-the-Inbox-as-an-instructor/ta-p/628