Your instructor may require you to take a Quiz in Quercus. The quiz may be made available to you in a Module, or in the Assignments or Quizzes area of your course.

Taking a quiz in Quercus
When you first open the quiz, you will see the Quiz summary, as depicted in the image below.
The Quiz summary includes the due date, points possible, the number of questions, and may include information such as: availability window, time limit and the number of attempts allowed. The instructor may provide additional information that will appear under "Instructions". Once you are ready to begin, click the "Take the Quiz" button.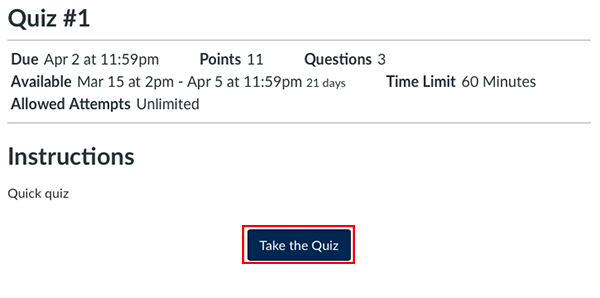 Your quiz questions will either be presented to you one at a time, or all together on one page.
As shown in the image below, the time and date that you started your quiz will appear under the quiz name. On the right-hand side of the page you will find quiz summary information, including links to individual questions and their status, the quiz attempt due date, and the time remaining for the quiz (if it is a timed quiz). Your quiz questions are saved automatically, and the time that your responses were last saved can be found next to the "Submit Quiz" button.
If your quiz displays one question at a time, when you are ready to move on to the next question, you can select the "Next" button.
Note: if you are be asked to upload a file for a "File Upload" question, Quercus will confirm that the upload worked by showing a message stating "Your file has been successfully uploaded", as shown in the screen shot below.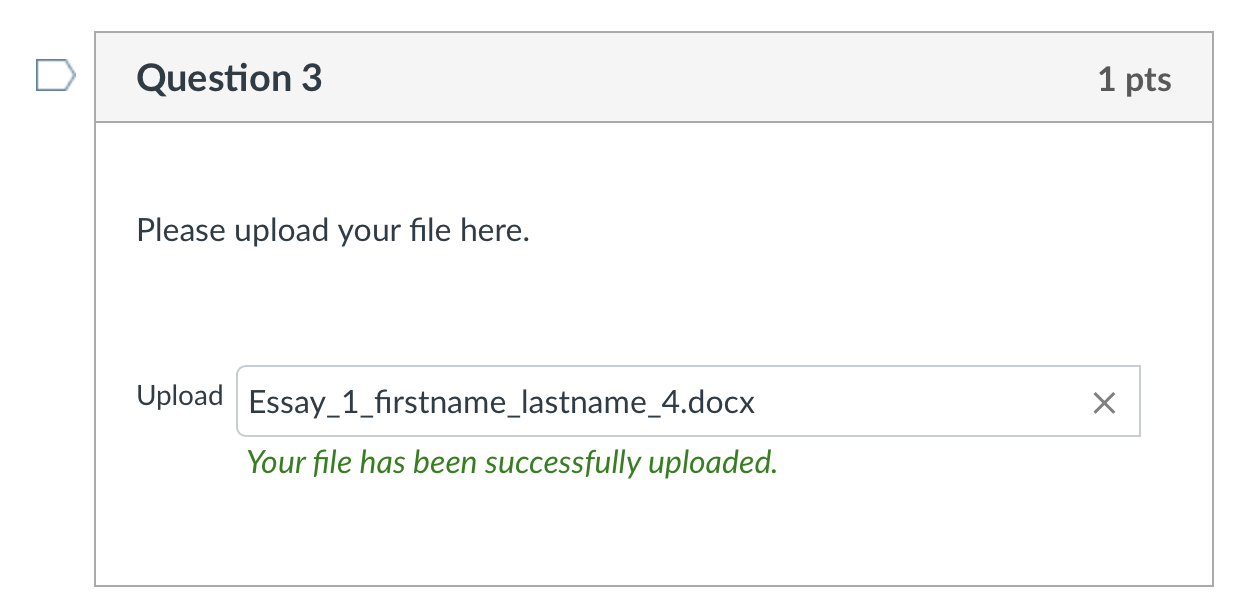 When you are satisfied with all of your quiz responses, you can click the "Submit Quiz" button. If your instruction has allowed additional quiz attempts, you can access them by clicking the "Take the Quiz Again" button.
Note: Timed quizzes will be automatically submitted when the time has elapsed.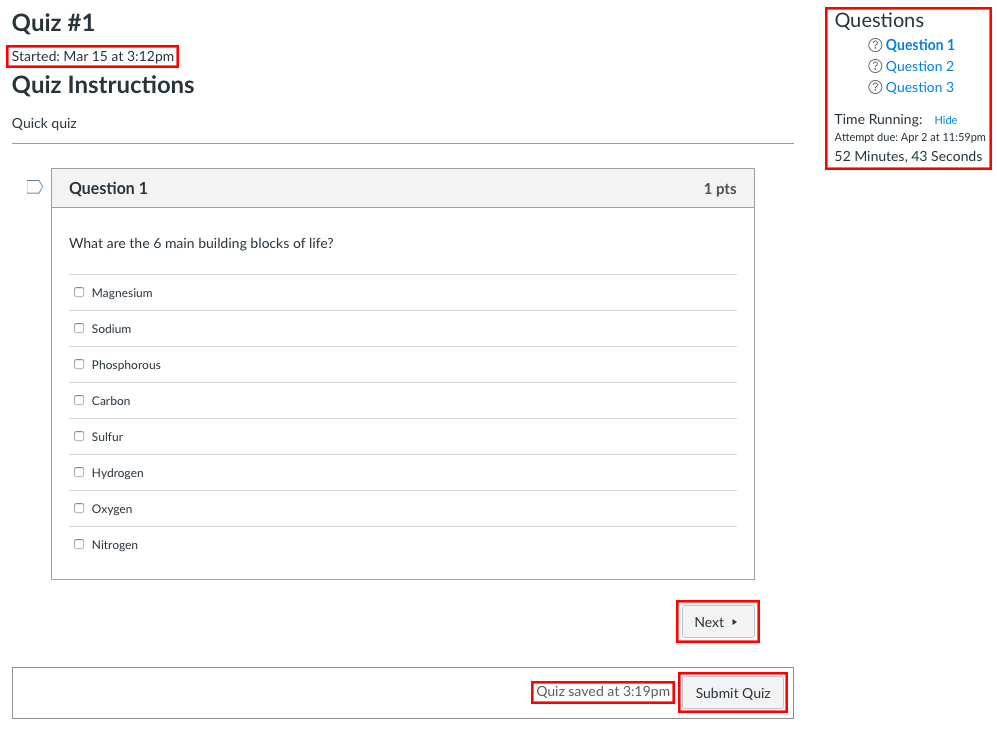 Depending on the options selected by your instructor, you may have access to information about your completed quiz.
For example, you may only see your score for the quiz. Please note, if the quiz has a question with a written answer component, don't panic, you score may be updated once your instructor or TA has completed grading your quiz.
Watch this video for instructions for students when taking a quiz in Quercus.
Checklist for successful online test-taking
Recommended computer and internet connection:
Please note: The Canvas Student mobile app should not be used for any high-stakes activities such as submitting assignments or quizzes—important tasks and assessments should be completed on a desktop or laptop computer instead.
Before the Test:
Verify that your browser and computer are supported by Quercus (Canvas).
Use a computer with a wired internet connection (avoid dial-up, no wireless, no satellite), we suggest checking the speed and quality (e.g., U. of T. Speedtest for computers on campus) of your network connection. You want a speed faster than (more than) 512 kbps.
Turn off third-party browser extensions, toolbars, etc.
Ensure that your system has the most recent updates, e.g., Microsoft update (PC) or OSX software update (MAC) as either may try to restart your machine.
For all Test Takers:
Turn off any programs that might interrupt your taking of the test by overloading your system's processor (e.g., Skype, Twitter, IM, email, etc.).
Make sure pop-ups are allowed before taking the test.
Avoid running programs in the background that may consume large amounts of bandwidth (e.g., do NOT use Netflix, YouTube, streaming internet TV or other programs that require high bandwidth).
If you want to resize or refresh the browser window, do it before you start the test.
Just before the test, log out of the browser by closing all windows and quitting the browser, then re-open the browser and log back into Quercus.
Only have one browser window open unless otherwise specified by your instructor, and avoid opening multiple tabs.
Do the practice test if made available by your professor.
When taking the test:
When opening the test, click the link ONLY ONCE and wait for it to load, be patient.
Use Quercus navigation buttons, DO NOT use browser 'back' and 'forward' buttons.
Click the 'Submit Quiz' button ONLY ONCE, be patient.
NOTE: Exponents for equations in Quercus may not display correctly if using versions of Chrome below 90. Students should make sure Chrome is up to date before taking a Quiz.
If you experience technical issues ...
Please don't panic if you see the Internet connectivity message below. Quiz questions completed up until the point when connectivity was lost should be saved.
Close the browser and open it again (if this does not work then shut down your computer and turn it on and then open the browser).
Your progress prior to the loss of Internet connectivity should be saved.
Return to the Quercus Quiz and select the Resume Quiz button (screenshot below):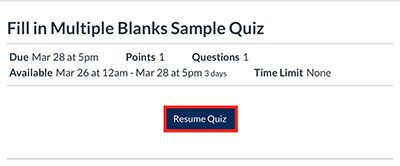 If you encounter a technical problem while submitting your quiz, please inform your instructor as soon as possible and as well provide the information below using the Report a Problem with Taking a Quiz in Quercus for Students UTM Service Portal form.
As mentioned above, the Canvas Student mobile app should not be used for any high-stakes activities such as submitting assignments or quizzes—important tasks and assessments should be completed on a desktop or laptop computer instead.
If you experience a technical problem while taking a quiz from a computer on campus, you should also provide the following:
Location of the computer (e.g., Library electronic classroom, Library information commons)
Number on the computer (e.g., LIBPC-12) which is located on the monitor of the computer being used
If the technical issue was related to Internet connectivity while at UTM Campus, students are asked to contact the UTM I&ITS Service Desk – https://www.utm.utoronto.ca/iits/ as soon as possible.
For more information on taking a Quiz in Quercus, see the below in the Canvas Community Student Guide.
https://community.canvaslms.com/docs/DOC-10701#jive_content_id_Quizzes
Language settings
Adapted from the UTM Department of Geography, Geomatics and Environment: Unless otherwise instructed by your instructor, please make sure that your language preference on Quercus is set to English (Canada). To check this, on Quercus at the left-hand side of the site go to: Account --> Settings --> Edit Settings (button on the right-hand side) --> Language dropdown menu should be set to System Default (English (Canada)) then click on the Update Settings button.
Note: Also please make sure to disable translation tools (such as Google Translate) in your browser's tool bar.
===
The UTM Student Test Practice Module is intended to serve two purposes: 1) help UTM students access campus resources that can help them prepare for online assignments / tests; 2) provide UTM students with an opportunity to practice online assignment submission / test-taking skills. It was developed together with a number of UTM campus partners to support students.
UTM Students can access this UTM resource using the link below. Select the Enroll in Course button and following the instructions to self-enroll:
https://q.utoronto.ca/enroll/7EJKWJ