Turnitin is a tool that can help instructors find textual similarities between two or more written texts. As shown in the steps below, Turnitin is integrated with Quercus, and is an option when creating an online Assignment.
BEFORE creating a Turnitin Assignment instructors must adhere to the University of Toronto Conditions of Use and inform their students at the start of the course that Turnitin will be used for coursework. Instructors must include the Conditions of Use statement in their course syllabus.
Note: Since Turnitin is intergrated with Quercus, the Turnitin.com website is no longer supported.
Step-by-step instructions to print off a feedback studio report:
Note:
- students can only view Turnitin Similarity Reports if the assignment is posted.
- the use of the current version of the Firefox browser is recommended

1. Go to the Gradebook and view the Turnitin flags beside each student entry.



2. Click on the cell for the student submission you would like to view in Turnitin and select SpeedGrader.



3. Click on the similarity number that appears for the submission on the subsequent page.

4. From the Turnitin Feedback Studio, select the Text-Only Report view (it's an option, in light blue text, at the bottom right side of the Feedback Studio document view).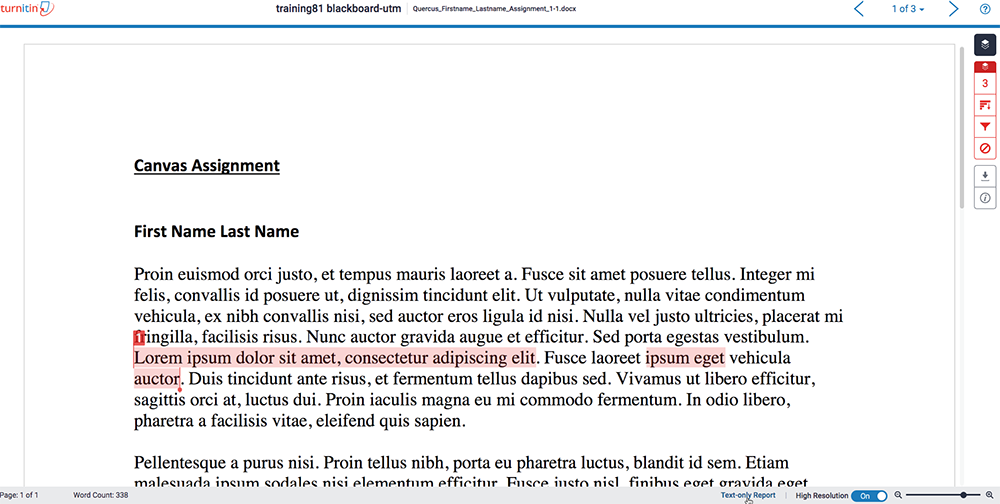 5. In Text-Only Report Document Viewer select show highest matches together and click on the Change mode button.


6. A side-by-side viewer will appear. Click on the red text on the left-hand panel that shows the student paper in order to view the source document on the right-hand side to compare the student paper and the source document. Note: You can use the next match buttons to view additional matched text.




7. If you would like to obtain a PDF copy of the comparison information on the screen, at the top of the Firefox browser window, select File and then Print.


8. Then select Save as PDF and save the file on your computer.





9. You will now have a PDF copy of the side-by-side comparison between the paper that was submitted by the student and the source where the matched text was found.
For more information regarding academic integrity, please visit the UTM Academic Integrity Website.